25.10.11
Ozzy Osborne was interviewed by his lovely wife Sharon Osbourne and the other members of The Talk today. He sat proudly beside his wife, and have joking conversations with the rest of the ladies from the show. He was there to promote his new book, "Trust Me, I'm Dr. Ozzy"

Julie Chen congratulated Ozzy on the announcement his son's, Jack, new engagement and baby on the way. Lisa is Jacks new bride, Sharon says they met Lisa's mother the night before and it went very well. They were "well behaved" even though they were nervous that Ozzy would say something inappropriate. When asked about what advice Ozzy would give to his son on being a father he replied, "Join a rockband and go on the road."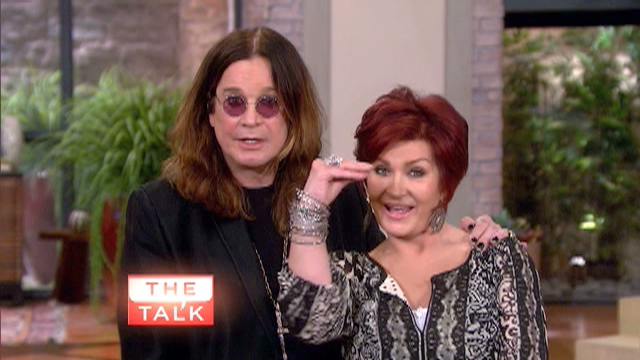 Julie asks how Ozzy started writing and giving "medical advice". He tell a story of a man that he knew. The man asked Ozzy one time, "me and my wife had good sex for 7 days a week and now we only have sex 4 times a week" and now the man wanted to know if it was "normal". Ozzy told the man to "stop complaining" because he was blessed to be 60 years old and still having sex at all.
Sharon says that Ozzy had his genes traced to find out who he was related to and what, if any, health markers they may find. The test results showed that Ozzy was related to Stephen Colbert and King George the 1st. The test also showed that there were no known health risks in this blood line. Ozzy commented, "I really didn't know what [the test] was about, and Sharon wanted to find out about the history of Alzheimer in her family"
Discussing Ozzy's health he says that he "goes to the gym every morning for the past 10 years" and is now a vegetarian. Julie Chen asked how long he had been a vegetarian, he replied "a week" and gave a cheeky grin. "The actual reason I decided to cut out meat and dairy is because I'm limited to what I can have on the road, burgers are everywhere." I think he meant that it was a healthier alternative to the burger and fry joints that are so abundant. He goes on to say that he is "not going to do it forever."
Ozzy also a considers himself to be a "self proclaimed hypochondriac". "So many men are ignorant to what really goes on." One of his friends asked him "what is a prostate" he said "go to the doctor", the man asked "how do they check for that" and Ozzy replied "I'll give you two guesses."
There was a special video message from Dr. Oz who asked Ozzy how he managed to still be alive after all the crazy things that happened to him. Ozzy blames it on "luck".
Before he left the show, the ladies asked if he had any advice on not smoking, "tobacco is the most addictive substance out there, just quit." Ozzy, who was once known for his bad ass ways, is now a non smoking, veggie eating, author. Funny how things change. It just goes to show that we all get better with age.