23.8.11
I am totally not impressed by Kim Kardashian's wedding last weekend. I've always enjoyed watching the Kardashians as my secret window into the lives of rich reality stars. Their attempts at ratings are often accompanied by a few laughs or gasps. Nothing I wouldn't expect from a scripted ratings phenomenon. The wedding was flashy, tacky, star studded, and lame. Supposedly guests stayed until late and staff were getting impatient. I don't truthfully believe this wedding is legit. Kim K is so jealous of her sisters. She truly is a self-absorbed, alcoholic waiting to happen. She should be with Scott! And we all know Humphries is in it for the money. Why do we watch this crap again? ... oh yeah, cause it's still entertaining!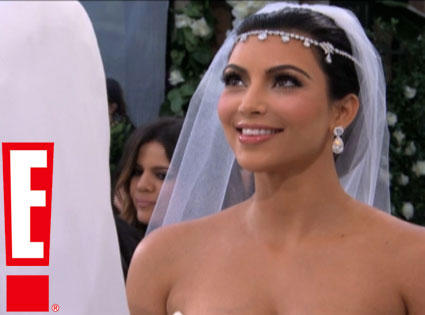 Image courtesy of: eonline.com





She wore over 10 million dollars in crystals and gems. The headpiece is layered in diamonds. Fit for a princess, why not TV's princess?